Technology: Expenses
Assuming that you are capable of bargaining at least in hotels and that you spend three–four days in each city where you stop rather than hit the road every other day, you can easily spend less than 15 dollars per day if you share hotel expenses with a friend. This amount will include about three dollars for food and seven for a hotel. If you travel alone and want to stay in cleaner than usual rooms with running hot water, you have to spend about 20 dollars per day for a hotel, but other costs do not change. Naturally, if you stay in caravan-serais, take minibuses or ride in taxi trunks, and eat pilau only, you can spend about five dollars per day. Finally, if you hitchhike and shamelessly accept all invitations from the locals, you can spend nothing at all. Some people did just that.
To give you an understanding of Afghan costs, I list all my spendings below. In 27 days I have spent $496.04. Of that, $383.08 went toward the visa, food, hotel and transportation. That is about 14 dollars per day. To get a really average amount, we should keep in mind that a couple of dinners and hotels were unnecessarily — or necessarily — lavish, and without this extra expense it would be about 10 dollars per day. I must also say that I did not try to save money and merely avoided rip-offs.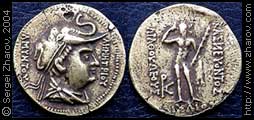 A fake Bactrian dinar bought for five dollars in Balkh
After looking at this list, I have noticed that the average daily cost of meals was more than "one dollar" I mention in the "Food" section later. The reason is that I have visited an enormously expensive restaurant in Kabul — five dollars per person — and also ate in expensive hotels in Herat and Kandahar, two dollars per dinner.
The cost of hotels, local transportation, and side trips with guides was shared, and here I list my half only. Four nights were free: two during the trip from Mazar-i-Sharif to Herat, one in an NGO office in Lashkargah, and one more at the house of the governor of Ghazni province. And about 10 meals were paid for by the locals.
So:
| | |
| --- | --- |
| $30.00 | — visa |
| $84.56 | — food |
| | |
| --- | --- |
| $28.23 | — pilau, bread, and tea, 21 times |
| $18.69 | — kebabs, bread, and tea, 14 times |
| $21.22 | — water and cold drinks, 46 bottles |
| $7.02 | — field rations, 10, and extra main dishes, four |
| $1.96 | — sour cream, bread, and tea, three times |
| $7.44 | — other: |
| | |
| --- | --- |
| $0.16 | — biscuits |
| $0.34 | — cookies |
| $0.92 | — "Bounty" |
| $0.26 | — chips |
| $0.53 | — condensed milk |
| $0.84 | — ice-cream, twice |
| $0.93 | — cheese |
| $0.12 | — two cobs of corn |
| $0.36 | — two packs of mango juice |
| $0.08 | — melon |
| $0.34 | — water melon |
| $0.63 | — four pomegranates |
| $0.23 | — grapes, one pound |
| $1.70 | — five cups of almonds |
| | |
| --- | --- |
| $159.41 | — hotel, 23 nights, my half |
| | |
| --- | --- |
| $15.19 | — Jalalabad, "Spinghar", two nights |
| $15.06 | — Kabul, "Zarnegar", three nights |
| $25.05 | — Kabul, "Jamil", four nights (one — alone) |
| $20.26 | — Mazar-i-Sharif, "Aamo" (?), four nights |
| $31.16 | — Herat, "Mowafaq", four nights |
| $3.12 | — Herat, caravan-serai, one night (alone) |
| $49.57 | — Kandahar, "Noor Jahan", five nights |
| | |
| --- | --- |
| $6.09 | — postcards, 24 |
| $14.85 | — stamps, 42 sets |
| $12.24 | — internet, 4 hours |
| $3.21 | — international call, 7 minutes |
| | |
| --- | --- |
| $98.19 | — intercity transportation |
| | |
| --- | --- |
| $3.37 | — Torkham–Jalalabad |
| $3.37 | — Jalalabad–Kabul |
| $10.52 | — Kabul–Mazar-i-Sharif |
| $18.18 | — Mazar-i-Sharif–Herat |
| $11.63 | — Herat–Girishk |
| $2.33 | — Girishk–Lashkargah |
| $1.86 | — Lashkargah–Kandahar |
| $13.95 | — Kandahar–Ghazni |
| $2.79 | — Ghazni–Kabul |
| $12.96 | — Kabul–Kandahar |
| $15.12 | — Kandahar–Herat |
| $2.11 | — Herat–Islam Qala |
| | |
| --- | --- |
| $11.92 | — city transportation, 20 rides, my half |
| | |
| --- | --- |
| $0.26 | — Jalalabad, one ride |
| $8.13 | — Kabul, 11 rides |
| $0.26 | — Mazar-i-Sharif, one ride |
| $0.61 | — Herat, two rides |
| $2.31 | — Kandahar, four rides |
| $0.35 | — Ghazni, one ride |
| | |
| --- | --- |
| $29.13 | — side trips with guides, my half |
| | |
| --- | --- |
| $8.42 | — Jalalabad, taxi for six hours |
| $5.05 | — Jalalabad, guide for the whole day |
| $5.19 | — Mazar-i-Sharif, taxi to Balkh for three hours |
| $2.33 | — Lashkargah, taxi to Bost for three hours |
| $1.16 | — Kandahar, motorikshaw to the cemeteries for two hours |
| $4.65 | — Kandahar, guide for two hours |
| $2.33 | — Ghazni, taxi for three hours |
| | |
| --- | --- |
| $2.70 | — laundry, twice |
| $0.35 | — shoe repair, twice |
| $0.21 | — passport photocopies for the Iranian visa |
| $1.86 | — two blank CDs for digital pictures |
| | |
| --- | --- |
| $1.01 | — calculator |
| $1.05 | — map of Kabul |
| $2.02 | — Dari phrase book |
| | |
| --- | --- |
| $4.49 | — lapis lazuli necklace, two |
| $0.70 | — lapis lazuli ring |
| $4.65 | — carved wooden box |
| | |
| --- | --- |
| $8.40 | — book "The Lord of the Rings Trilogy", New York, 1994 |
| $2.40 | — book "Afghanistan", Moscow, 1957 |
| $1.01 | — book "The 20th Anniversary of PDPA", Kabul, 1985 |
| $4.07 | — four CDs of Ahmad Zahir |
| $2.18 | — Afghan bills kept as souvenirs |
| $5.19 | — fake Bactrian dinar |
| $0.02 | — three betel packs with Bin Laden's picture |
| | |
| --- | --- |
| $0.26 | — newspaper "Kabul Times" |
| $0.11 | — three packs of matches for building a toy cabin |
| | |
| --- | --- |
| $0.38 | — charity, twice |
| $2.85 | — lost, thrice |
| $0.53 | — stolen by that bitch at the Kabul post office |
next: Visa
more: Other things
this page: http://www.zharov.com/afghan/expenses.html
copyright: © Sergei Zharov, text, photos, maps, design, code, 2004–2022
feedback: sergei@zharov.com